A conservatory is the most cost-effective way to add more space to your home. Here at envy we undertake all the work from surveying to installing. All you need to do is choose your perfect conservatory and leave the rest to us.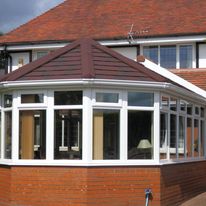 VICTORIAN CONSERVATORIES
Victorian conservatories bring a touch of elegance to your garden. These are great when space is an issue. Choose form 3 or 5 faceted options.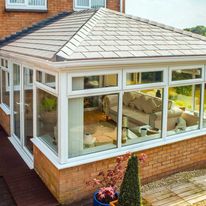 EDWARDIAN CONSERVATORIES
Utilising a square, flat fronted design, Edwardian conservatories offer clean lines that blends easily into the character of your home and utilises all the space on offer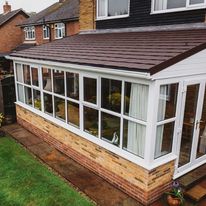 LEAN TO CONSERVATORIES
A minimalistic and often more cost-effective design, Lean to conservatories maximise all the space on offer and are more effective for properties with height restrictions.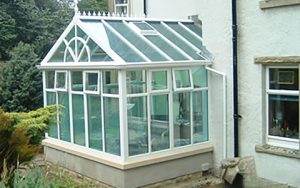 GABLE ENDED CONSERVATORIES
Using a square design like the Edwardian & Lean to conservatories, The gable ended conservatory utilises all the space allowed but with a big dominant triangular window it adds a more grand features to your home.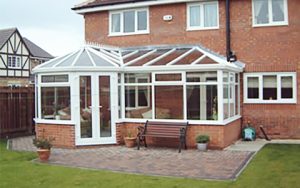 COMBINATION CONSERVATORIES
Combination conservatories use 2 conservatory designs to create a multifunctional space with two distinct areas which can be used however you desire. Combination conservatories allow you to go bigger than traditional styles.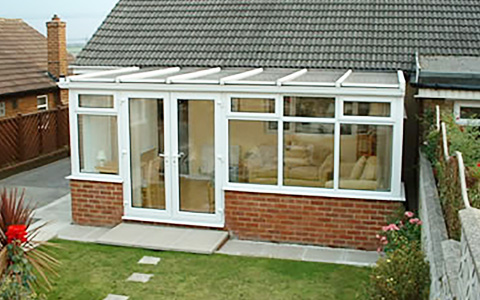 Polycarbonate is often used for conservatory roofs because it is a strong and low-cost material. It is also lightweight. It has become a popular choice for customers over the years. Polycarbonate is available in 3 styles.
 Clear, Opal and Bronze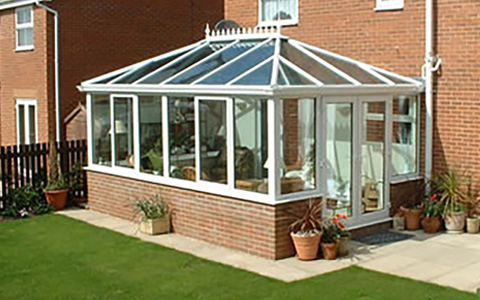 Glass roofs are more thermogenic than polycarbonate roofs and allow in a lot more lights. Glass roofs tend to offer better sound insulation and although they are practically clear some do have a blue or brown tint.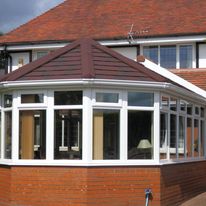 Solid roofs will retain warmth in the winter months while keeping your conservatory incredibly cool on sunny days (even in direct sunlight). They are virtually burglarproof and the roofing tiles cannot be easily removed.
Tiled roof systems eliminate most noise from wildlife and weather as well as sun glare. Tiles are available in 3 colours.
Ember, Charcoal & Walnut